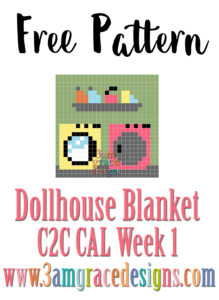 Welcome to Week 1 of our Dollhouse Blanket C2C CAL! Our first square is the Laundry Room.
I know I spend a considerable amount of time in my own — therefore, no dollhouse would be complete without one!
Click HERE to download the Laundry Room graph.
Click HERE to download the written instructions.
**A special thank you to our 3amgracedesigns Facebook member Eve Lyn for creating the written charts!**
This blanket was a great deal of fun to create. I hope you all enjoy making it for the special little ones in your life.
Have you joined our Facebook Group! We'd love you have you!




Don't forget to PIN this project to your Pinterest boards!
Happy Crocheting! Enjoy the rest of your weekend!