A Free Hobby Lobby "I Love This Yarn" & Red Heart Super Saver Yarn Conversion Resource List For Crocheter's.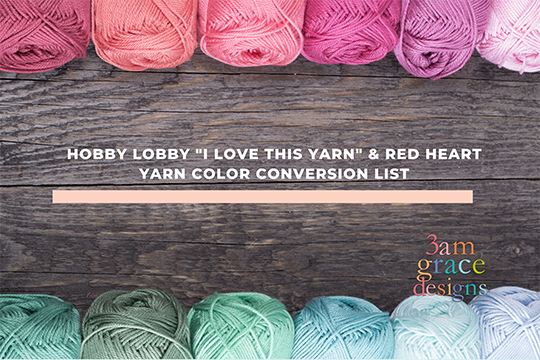 After designing 100's of crochet patterns over the years, we've compiled a list of color substitutions for Hobby Lobby's "I Love This Yarn" and Red Heart Super Saver yarn.
Please keep in mind, yarn companies use their own formulas for dyeing yarn, therefore there won't be an exact match across the two brands. We've done our best to list colors we've substituted in our own projects. There are instances, however, where we only have access to online photos for comparison.
Before purchasing yarn, we recommend also doing your own research to compare colors on each brand's website.
If you would like the free, printable PDF of this resource, enter your email below.
Don't forget to PIN this project to your Pinterest Boards!

| | |
| --- | --- |
| Hobby Lobby ILTY | Red Heart SS |
| Amethyst | Lavendar |
| Antique Teal | Real Teal |
| Antique White | Off White |
| Aubergine | Claret |
| Black | Black |
| Brown | Coffee |
| Burnt Pumpkin | Carrot |
| Buttercup | Pale Yellow |
| Coffee | Coffee |
| Cranberry | Burgundy |
| Cream | Aran |
| Dark Denim | Denim |
| Dark Olive | Medium Thyme |
| Dark Country Blue | Windsor Blue/Soft Navy |
| Desert Glaze | Carrot/Pumpkin |
| Fire Red | Hot Red |
| Forest Green | Forest Green/Hunter Green |
| Glacier | Minty |
| Grape | Amethyst |
| Graphite | Charcoal |
| Graymist | Light Gray |
| Greybeard | Grey Heather |
| Hot Orchid | Shocking Pink |
| Hot Rose | Pretty n Pink |
| Ivory | Aran |
| Jellybean | Paddy Green |
| Keylime | Spring Green |
| Lemon Ice | Eggshell |
| Light Gray | Light Gray |
| Light Peach | RHWL Blushing Peach |
| Light Sage | Tea Leaf |
| Light Taupe | Tan |
| Limelight | Spring Green |
| Linen | Oatmeal |
| Mango | Coral/Flamingo |
| Medium Blue | Delft Blue |
| Menthe | Honeydew/Minty |
| Midgreen | Tea Leaf/Guava |
| Mixed Berry | Light Raspberry |
| Navy | Soft Navy |
| Nightwatch | Macaw |
| Ocean | Minty/Aruba Sea |
| Orange | Pumpkin |
| Orchid | Orchid |
| Peacock | Pool |
| Periwinkle | Light Jasmine |
| Pink | Perfect Pink/Petal Pink |
| Purple | Dark Orchid |
| Red | Cherry Red |
| Red Tweed | Burgundy |
| Rosy Cheeks | Baby Pink/Light Raspberry |
| Royal | Royal |
| Sea blue | Turqua/RHWL Iced Aqua |
| Sea Muse | Lapis |
| Soft Blue | Light Blue |
| Soft Pink | Petal Pink/Baby Pink |
| Stonewash | Country Blue/Light Periwinkle |
| Sungold | Gold |
| Terra Cotta | Redwood |
| Toasted Almond | Buff/Warm Brown |
| Tropical Pink | Bubblegum |
| Turquoise | Turqua |
| Walnut Stonewash | Mushroom |
| White | White |
| Yellow | Bright Yellow |