How To Crochet A Beach Bus Amigurumi Cuddler Pillow. Our Beach Bus Crochet Pattern Is Created With Beginners In Mind & Works Up Quickly!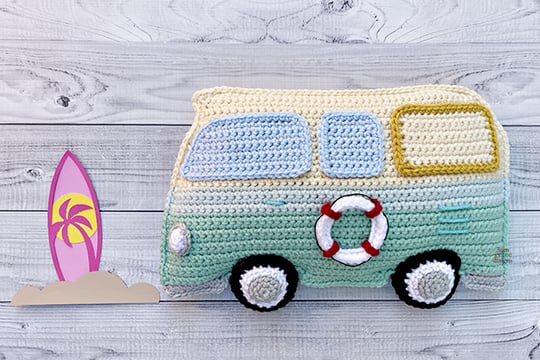 Hi friend! We're so excited to share our Beach Bus crochet pattern Kawaii Cuddler® with you!
A few fun facts we learned about the buses while researching our pattern:
The Volkswagen Bus was a hit not only in Europe, but also in the United States, where it evolved into something much more than a vehicle. With its boxed style so different to anything else being produced in the US at the time, the VW T1 Samba became a symbol of counterculture. Nicknamed the "hippie bus", the VW van was adopted by all those that wanted to stand out and go against the norm.
More than 70 years on from its first production, the Volkswagen bus remains one of the most iconic vehicles ever made. Its popularity remains today, with a restored 1962 version selling earlier this year for a whopping $122,000 USD!
The buses seat nine people in comfort. The big, thickly cushioned seats are ridiculously comfortable compared to modern seats with their thin padding.
Our Beach Bus crochet pattern is happy to join our other friends Tugboat Kawaii Cuddler®, School Bus Kawaii Cuddler®, & Airplane Kawaii Cuddler®.
Our finished Beach Bus project is 8″ x 13″ using the recommended hook size. You are welcome to go up or down a hook size to create a different dimension. You can even hold two pieces of yarn together with a larger hook to create a giant cuddler. The sky is the limit!
If you've never worked one of our Kawaii Cuddler® patterns, they are geared towards beginners. You will work two flat pieces and single crochet them together to finish the piece. Even if you've never been able to crochet from a pattern before, we're confident you can create with a 3amgracedesigns pattern. We encourage you to join our Facebook Group where we remain active helping with questions! We love passing our love for the craft on to others!
Click HERE to purchase the Beach Bus Kawaii Cuddler® crochet pattern
We hope you enjoy making your very own beach bus with our crochet pattern! We can't wait to see your creativity. When you complete one, please post it in our Facebook group or tag us on Instagram #3amgracedesigns. We love seeing your work!
Don't forget to PIN this project to your Pinterest Boards!

Click HERE to purchase the Beach Bus Kawaii Cuddler® crochet pattern