A membership experience supporting crocheters' on their Kawaii Cuddler® creating journey!
Whether you're a parent who finds themselves answering to tiny humans all day, someone who's always on the go and showing up for others, or both, we know you're struggling to find time for yourself. 
Or if you're like us, you're excited to finally start a new crochet project, only to find you don't have the right yarn or you're out of the correct sized safety eyes. But what if you didn't have to worry about all that? 
What if someone could organize and curate something for you?
What if you could pour back into yourself by crocheting a new Kawaii Cuddler® pattern each month, making time for YOU anywhere, anytime?
What if you could…
→ Receive the tools & materials you need so you can confidently step into your next project.
→ Create something super cute and have fun doing it, even if you're newer to crochet.
→ Have access to a full video tutorial in case you need visual support.
→ Join a community that's ready to support you through your project and reassure you that in your day-to-day struggles, you're not alone! 
No more what if's, friend. It's time to put away the stress and worries and do something that's just for you.
It's time for…
The Kawaii Crew by 3amgracedesigns®
Because we want to get you making your cuteness as soon as possible, each month we provide:
A surprise, brand-new, previously unreleased Kawaii Cuddler® digital pattern. This pattern is an exclusive release! It won't be available to the public until 6 months after it's release to The Kawaii Crew.

A complete step-by-step video tutorial of the monthly Kawaii Cuddler® design.

Materials to complete your Kawaii Cuddler® including two full skeins of yarn, safety eyes, & embroidery floss. You only need to provide the poly-fil!

An adorable matching tote bag to keep all your materials organized – also perfect for taking your project on-the-go!

Fun notions/surprises each month – buttons, stitch markers, vinyl stickers, or keychains. Notions are exclusive to The Kawaii Crew Kits and will not be available in our shop.

Because we don't want to add another WIP (work in progress) collecting dust to your crochet cabinet – we've added an exclusive hand-drawn, matching vinyl sticker for everyone that completes their monthly project within 30 days and posts a photo in our group! This sticker won't be available to purchase separately.

Digital Stamp Collection PDF for collecting your exclusive finishing stickers.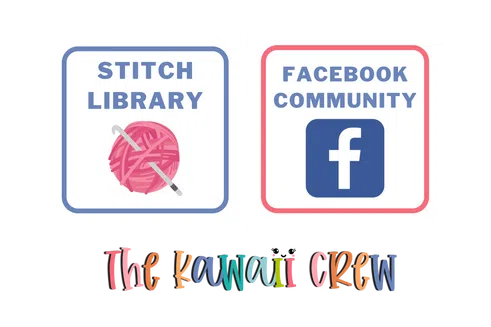 In addition to each month's kit, you'll also receive access to:
Stitch Library
Our filmed stitch library can help any crocheter who wants to watch/learn/review a specific stitch individually with how-to videos for different stitches.
Facebook Group
Although crocheting gives you some adorably cute pieces of art, the Kawaii Crew community will provide you with something even better—support! With crocheters from all over the world and all walks of life, you'll be able to join the exclusive Kawaii Crew Facebook group for support and love through each crochet project you may be working on!
$49.99 + $4.99 Shipping Monthly (USA ONLY)
Membership Is Currently Closed!
A Look At Previous Months Releases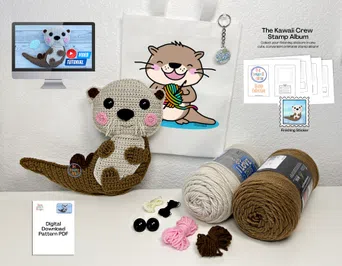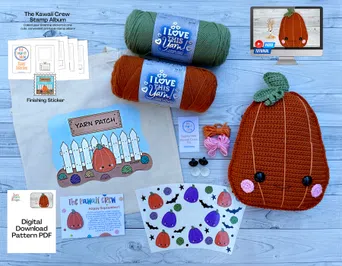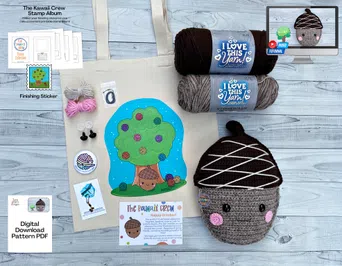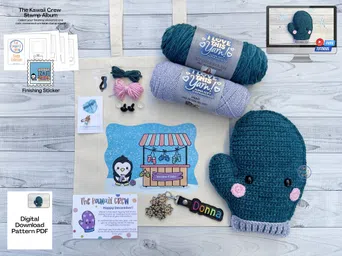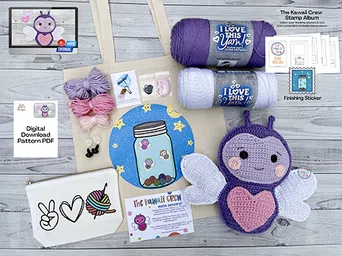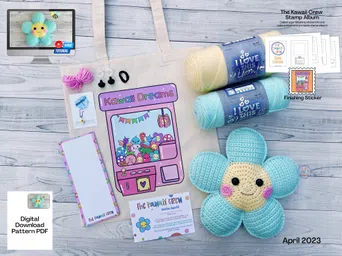 "I Love The Kawaii Crew!"
It includes everything I need to make a Kawaii Cuddler. The stitch markers are adorable and make me smile! The completion stamps are fun! The tote bag might be my favorite though. I use the current month's bag as my "purse" so I can enjoy the adorable design all month long ❤️ Being able to listen to Donna while she creates is almost like having her in the room with me. Watching how she does a part I might find tricky, helps me learn new ways to assemble.
"My Favorite Part Of Every Month!"
I love receiving my kit every month! The extras are so much fun & I know they can't be bought somewhere so they're even more special! I am addicted to Kawaii Cuddler patterns so this is perfect! The tote bags are adorable. I've been tempted to use them for a gift bag but I can't part with them!
Hi There, My Name Is Donna.
New around here?
My love for crocheting started way back in 2000 when I was just looking for something to keep me busy during the graveyard shift. Little did I know it was the beginning of such a beautiful and fulfilling passion!
Fast forward 22 years later, and crocheting has helped me get through so many challenges in my life: a divorce, cancer diagnosis and treatment, infertility, and so many other hard life moments.
It was in those moments that 3amgracedesigns and the Kawaii Cuddlers® patterns were born! The Kawaii Cuddler® Pattern Club was designed to bring our raving Kawaii Cuddler® fans monthly pattern collections at the best value. You work hard – you deserve a monthly dose of kawaii cuteness!