How To Crochet An Eggplant Amigurumi Cuddler Pillow. Our Eggplant Crochet Pattern Is Created With Beginners In Mind & Works Up Quickly!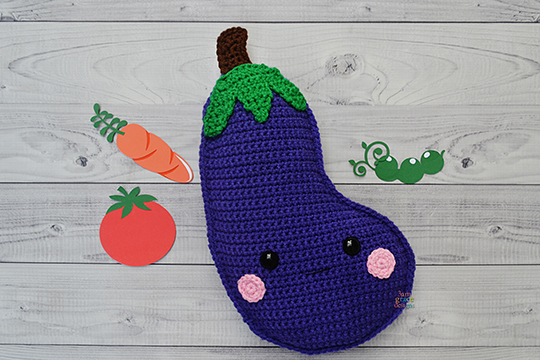 Hi friend! We're so excited to share our Eggplant crochet pattern Kawaii Cuddler® with you!
A few fun facts we learned about eggpant while researching our pattern:
Eggplants aren't REALLY vegetables, they're berries.
A study published in 1993 in the New England Journal of Medicine showed that eggplant has by far the highest level of nicotine of any vegetable. But it's such a small amount that there's really no need for concern. You would have to eat between 20 and 40 pounds of eggplant to consume the amount of nicotine you'd get smoking one cigarette
The word "eggplant" that we use in North America comes from British-colonized India, where at the time, a small, white, egg-like variety of the vegetable was all the rage
Our Eggplant crochet pattern is happy to join our other food friends Lemon Kawaii Cuddler®, Pear Kawaii Cuddler®, and Pea Pod Kawaii Cuddler®.
This is a beginner level pattern. Our finished Eggplant project is 13″ x 8″ using the recommended hook size. You are welcome to go up or down a hook size to create a different dimension. You can even hold two pieces of yarn together with a larger hook to create a giant cuddler. The sky is the limit!
If you've never worked one of our Kawaii Cuddler® patterns, they are geared towards beginners. You will work two flat pieces and single crochet them together to finish the piece. Even if you've never been able to crochet from a pattern before, we're confident you can create with a 3amgracedesigns pattern. We encourage you to join our Facebook Group where we remain active helping with questions! We love passing our love for the craft on to others!
Click HERE to purchase the Eggplant Kawaii Cuddler® crochet pattern
We hope you enjoy making your very own Eggplant with our crochet pattern! We can't wait to see your creativity. When you complete one, please post it in our Facebook group or tag us on Instagram #3amgracedesigns. We love seeing your work!
Don't forget to PIN this project to your Pinterest Boards!

Click HERE to purchase the Eggplant Kawaii Cuddler® crochet pattern