How To Crochet A Birthday Party Hat Amigurumi Cuddler Pillow. Our Birthday Party Hat Crochet Pattern Is Created With Beginners In Mind & Works Up Quickly!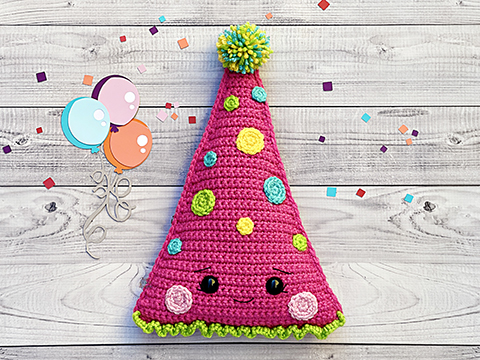 Hi friend! We're so excited to share our Birthday Party Hat crochet pattern Kawaii Cuddler® with you!
A few fun facts we learned about toast while researching our pattern:
We can trace the origin of pointy hats and noisemakers back to ancient times. Once puzzled by the purpose of these objects, art historians now believe ancient Egyptians wore cone-shaped hats as a festive form of dress at special occasions, like banquets.
In some parts of the world, including Great Britain, birthday party hats — especially when worn by the guest of honor — are usually in the shape of a royal crown. However, in the U.S., the cone-shaped dunce cap — worn as a form of punishment by misbehaving schoolchildren in the 19th and early 20th centuries — may have been the inspiration.
Today, a typical birthday party hat is made of thin cardboard, usually printed with colorful designs on the outside, that is rolled and fastened into a cone shape. A strip of thin elastic extends from one edge of the open end of the cone to the other, serving as a chin strap.
Our Birthday Party Hat crochet pattern is happy to join our other friends Present Kawaii Cuddler® & Cupcake Kawaii Cuddler®.
Our finished Birthday Party Hat project is 9″ x 13″ using the recommended hook size. You are welcome to go up or down a hook size to create a different dimension. You can even hold two pieces of yarn together with a larger hook to create a giant cuddler. The sky is the limit!
If you've never worked one of our Kawaii Cuddler® patterns, they are geared towards beginners. You will work two flat pieces and single crochet them together to finish the piece. Even if you've never been able to crochet from a pattern before, we're confident you can create with a 3amgracedesigns pattern. We encourage you to join our Facebook Group where we remain active helping with questions! We love passing our love for the craft on to others!
Click HERE to purchase the Birthday Party Hat Kawaii Cuddler® crochet pattern
We hope you enjoy making your very own Birthday Party Hat with our crochet pattern! We can't wait to see your creativity. When you complete one, please post it in our Facebook group or tag us on Instagram #3amgracedesigns. We love seeing your work!
Don't forget to PIN this project to your Pinterest Boards!

Click HERE to purchase the Birthday Party Hat Kawaii Cuddler® crochet pattern