How To Crochet A PlayStation Controller Amigurumi Cuddler Pillow. Our PlayStation Controller Crochet Pattern Is Created With Beginners In Mind & Works Up Quickly!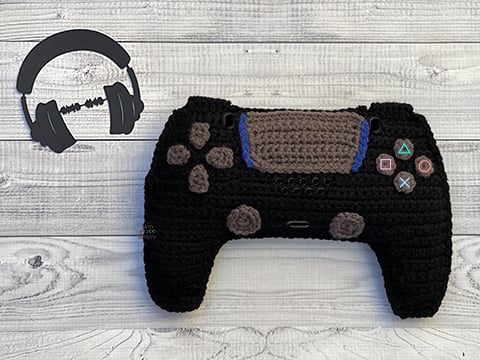 Hi friend! We're so excited to share our PlayStation Controller crochet pattern Kawaii Cuddler® with you!
A few fun facts we learned about toast while researching our pattern:
The PS4 controller is somewhat similar to the DualShock 3 and retains a few features from its predecessor such as the recognizable face buttons (Square, Triangle, X-button, and Circle). However, the analog sticks, D-pad, the rumble feature, and R1/R2/L1/L2 triggers on the DualShock 4 come with noticeable improvements.
The analog sticks of a PS4 controller have also been designed to feature a more tactile surface, an inside concave, and a slightly stiffer deadzone that should make it easier to maneuver the camera using small but precise movements.
The DualShock 4 features a touchpad on its front, which is similar to that attached to the handheld PS Vita. Gamers will be able to use it during gameplay as they click on it or swipe it with their thumbs to coincide with what is going on the screen. This touchpad has the potential to perform numerous intricate motions as the software used continues to improve.
Our PlayStation Controller crochet pattern is happy to join our other friends Nintendo Switch Controller Kawaii Cuddler®, Xbox Controller Kawaii Cuddler®.
Our finished PlayStation Controller project is 8″ x 11″ using the recommended hook size. You are welcome to go up or down a hook size to create a different dimension. You can even hold two pieces of yarn together with a larger hook to create a giant cuddler. The sky is the limit!
If you've never worked one of our Kawaii Cuddler® patterns, they are geared towards beginners. You will work two flat pieces and single crochet them together to finish the piece. Even if you've never been able to crochet from a pattern before, we're confident you can create with a 3amgracedesigns pattern. We encourage you to join our Facebook Group where we remain active helping with questions! We love passing our love for the craft on to others!
Click HERE to purchase the PlayStation Controller Kawaii Cuddler® crochet pattern
We hope you enjoy making your very own PlayStation Controller with our crochet pattern! We can't wait to see your creativity. When you complete one, please post it in our Facebook group or tag us on Instagram #3amgracedesigns. We love seeing your work!
Don't forget to PIN this project to your Pinterest Boards!

Click HERE to purchase the PlayStation Controller Kawaii Cuddler® crochet pattern