How To Crochet A Toaster Pastry Amigurumi Cuddler Pillow. Our Toaster Pastry Crochet Pattern Is Created With Beginners In Mind & Works Up Quickly!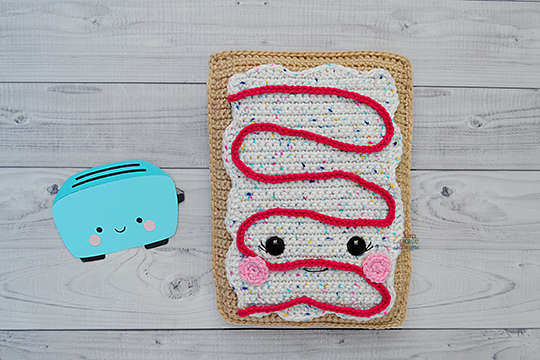 Hi friend! We're so excited to share our Toaster Pastry crochet pattern Kawaii Cuddler® with you!
A few fun facts we learned about toaster pastries while researching our pattern:
The idea for Pop-Tarts came from a refrigerated dog food invention. According to The Chicago Tribune, Post Co.'s pet-food division developed dog food called Gaines Burgers, "a novel concept because the dog food was semi-moist but didn't have to be refrigerated — a convenience many humans coincidentally sought in their breakfast food." Post took this innovative technology and put it towards "a fruit-filled pastry that could be shipped and stored without having to be refrigerated."
In the beginning there were only 4 flavors! When Kellogg's first introduced the toaster pastry in 1964, it was unfrosted and came with four flavors: Apple Currant Jelly, Strawberry, Blueberry and Brown Sugar-Cinnamon.
The United States actually ran out of Pop-Tarts in 1964. A Kellogg's spokesperson said that, "In 1964, the first shipment of Pop-Tarts sold out in just two weeks." Kellogg's issued the above advert explaining its "Oops!" and soon the Pop-Tarts were back on shelves again.
Our Toaster Pastry crochet pattern is happy to join our other friends Donut Kawaii Cuddler®, Cupcake Kawaii Cuddler®, and Gumball Machine Kawaii Cuddler®.
This is a beginner level pattern. Our finished Toaster Pastry project is 11″ x 8″ using the recommended hook size. You are welcome to go up or down a hook size to create a different dimension. You can even hold two pieces of yarn together with a larger hook to create a giant cuddler. The sky is the limit!
If you've never worked one of our Kawaii Cuddler® patterns, they are geared towards beginners. You will work two flat pieces and single crochet them together to finish the piece. Even if you've never been able to crochet from a pattern before, we're confident you can create with a 3amgracedesigns pattern. We encourage you to join our Facebook Group where we remain active helping with questions! We love passing our love for the craft on to others!
Click HERE to purchase the Toaster Pastry Kawaii Cuddler® crochet pattern
We hope you enjoy making your very own toaster pastry with our crochet pattern! We can't wait to see your creativity. When you complete one, please post it in our Facebook group or tag us on Instagram #3amgracedesigns. We love seeing your work!
Don't forget to PIN this project to your Pinterest Boards!

Click HERE to purchase the Toaster Pastry Kawaii Cuddler® crochet pattern