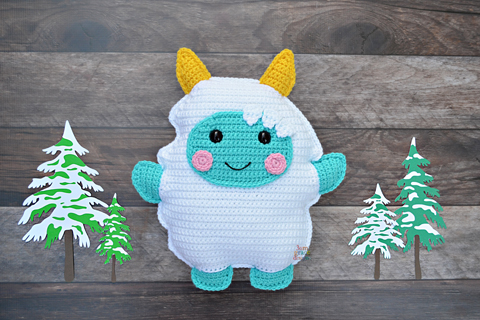 Hey friend! We were so excited to be included in the Winter Warmers Crochet Pattern Bundle this year! Our Yeti Kawaii Cuddler™ is exclusive to this bundle during this time.
After all the holiday making for family and friends, we usually take a little break from our crocheting and just rest and think about our next makes. 
Then, when we're ready to pick up that hook again, we like to dive into a project that is quick and warm! 
Hats, scarves, wraps, shawls, mittens, and gloves end up on our hooks the most in January. We like quick projects that we can complete and start wearing right away or have on hand to share.
It is so fun to add a new color or style to our wardrobe mid-winter and we might even make a gift or two if we find some patterns and yarns we love. 
If you are like us, you are always browsing for cute new patterns to try out and the new year is when we are looking for new pattern releases and styles. 
Well, this year, we are making it easy for you! To help us all add some new pieces to our wardrobes, we are excited to share the Winter Warmers Crochet Pattern Bundle. 
The Winter Warmers Crochet Pattern Bundle
We're honored to be one of the 13 crochet designers contributing patterns to this bundle. We have designed winter accessory patterns to share with you. Each of the 14 patterns were designed specifically to keep us warm and stylish this winter! 
The patterns cover all types of winter accessories from hats, scarves, and wraps, to shawls, mittens, gloves, and even a fun winter project. You are going to look great in these latest designs!
These accessory patterns are also some of the best handmade gift ideas. These patterns are some of the trendiest winter designs and making them for friends and family is a breeze. 
Oh, and did we mention that all of these patterns are brand new releases? Each of these designs is hot off the hook and has not been published before. 
You can get ALL 14 Winter Warmer Accessory Crochet Patterns worth over $70.00 for 80% off = $14. But, we are only offering this pricing for this week only! Consider it our new year present to you! 
Seriously….who offers this many brand new premium printable patterns for $1 each?  
What Patterns are in This Bundle?  
All of these patterns will help you amp up your own handmade wardrobe this year and beyond! These patterns are the perfect touches your winter wardrobe needs. 
Grab your copy of the bundle and get started on these great accessory patterns now! 
But wait, there is more! 
As an additional bonus and gift to you, many of my designer friends have included discount codes for their pattern shops in the bundle! 
So, you not only get 14 perfect winter patterns that normally retail for over $70, you also get discounts to grab more wonderful patterns from your favorite designers, or maybe someone new that you are just seeing as part of the bundle.  
So, jump over and buy your copy and get the bonus today because it is only available through January 31. 
We do offer a 30-day money-back guarantee, so there is really no risk to you buying your copy today!
We can't wait to see you wearing your favorite winter accessories this year! Let's get started together! 
Grab your copy at 80% off here, before it is gone!