How To Crochet A Wrench Amigurumi Cuddler Pillow. Our Wrench Crochet Pattern Is Created With Beginners In Mind & Works Up Quickly!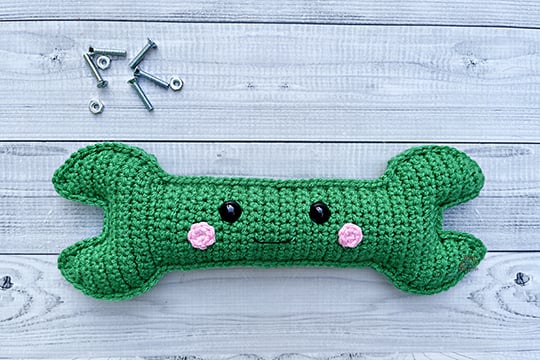 Hi friend! We're so excited to share our Wrench crochet pattern Kawaii Cuddler® with you!
A few fun facts we learned about the wrenches while researching our pattern:
Wrenches have a long history and have been used for various purposes including the straightening of spear shafts and similar, and the term was used before 1790, while the word 'spanner' has been used from as early as 1630.
Special alloy steel is typically used to make high quality wrenches and are typically plated with chrome for corrosion prevention.
The first patent of a wrench is commonly attributed to Solymon Merrick in the United States in 1834, however, an earlier patent of a similar one was granted in 1832 to Henry King from Springfield, Massachusetts, in the United States, and King's wrench was an 'improvement in the rack wrench'.
Our Wrench crochet pattern is happy to join our other friends Hammer Kawaii Cuddler® & Screwdriver Kawaii Cuddler®.
Our finished Wrench project is 12″ x 3″ using the recommended hook size. You are welcome to go up or down a hook size to create a different dimension. You can even hold two pieces of yarn together with a larger hook to create a giant cuddler. The sky is the limit!
If you've never worked one of our Kawaii Cuddler® patterns, they are geared towards beginners. You will work two flat pieces and single crochet them together to finish the piece. Even if you've never been able to crochet from a pattern before, we're confident you can create with a 3amgracedesigns pattern. We encourage you to join our Facebook Group where we remain active helping with questions! We love passing our love for the craft on to others!
Click HERE to purchase the Wrench Kawaii Cuddler® crochet pattern
We hope you enjoy making your very own wrench with our crochet pattern! We can't wait to see your creativity. When you complete one, please post it in our Facebook group or tag us on Instagram #3amgracedesigns. We love seeing your work!
Don't forget to PIN this project to your Pinterest Boards!

Click HERE to purchase the Wrench Kawaii Cuddler® crochet pattern