How To Crochet A Fried Egg Amigurumi Cuddler Pillow. Our Fried Egg Crochet Pattern Is Created With Beginners In Mind & Works Up Quickly!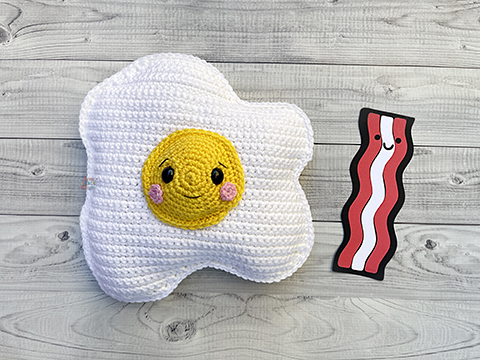 Hi friend! We're so excited to share our Fried Egg crochet pattern Kawaii Cuddler® with you!
A few fun facts we learned about fried eggs while researching our pattern:
In the United Kingdom, fried eggs can be served on toast, or in a sandwich, with bacon, sausages, and a variety of condiments. Eggs are often part of the full breakfast commonly eaten in the United Kingdom. Fried eggs are often served with ham or gammon steak as a popular pub meal. The egg is cooked on a high heat and hot fat, oil or water may be splashed onto the top of the egg to baste it and cook the white. They are usually cooked without turning over.
In Japan, fried eggs are usually made sunny side up. They may be served with salt and pepper, soy sauce or Japanese style Worcestershire sauce. Fried eggs are a popular breakfast dish, with toasted sliced bread or rice.
Ham and eggs is a dish combining various preparations of its main ingredients, ham and fried eggs prepared "sunny side up". It has been described as a staple of "an old-fashioned American breakfast" and of the traditional English breakfast.
Our Fried Egg crochet pattern is happy to join our other friends Bacon Kawaii Cuddler®, Toast Kawaii Cuddler®, and Toaster Pastry Kawaii Cuddler®.
Our finished Fried Egg project is 10″ x 11″ using the recommended hook size. You are welcome to go up or down a hook size to create a different dimension. You can even hold two pieces of yarn together with a larger hook to create a giant cuddler. The sky is the limit!
If you've never worked one of our Kawaii Cuddler® patterns, they are geared towards beginners. You will work two flat pieces and single crochet them together to finish the piece. Even if you've never been able to crochet from a pattern before, we're confident you can create with a 3amgracedesigns pattern. We encourage you to join our Facebook Group where we remain active helping with questions! We love passing our love for the craft on to others!
Click HERE to purchase the Fried Egg Kawaii Cuddler® crochet pattern
We hope you enjoy making your very own Fried Egg with our crochet pattern! We can't wait to see your creativity. When you complete one, please post it in our Facebook group or tag us on Instagram #3amgracedesigns. We love seeing your work!
Don't forget to PIN this project to your Pinterest Boards!

Click HERE to purchase the Fried Egg Kawaii Cuddler® crochet pattern