How To Crochet An Otter Amigurumi Cuddler Pillow. Our Otter Crochet Pattern Is Created With Beginners In Mind & Works Up Quickly!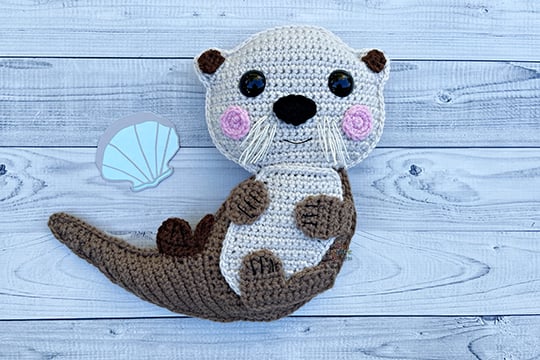 Hi friend! We're so excited to share our Otter crochet pattern Kawaii Cuddler® with you!
A few fun facts we learned about the otters while researching our pattern:
Thirteen different species of otter exist around the globe. The U.S. is home to two species: the sea otter and the North American river otter. River otters are much smaller — averaging 10-30 pounds — with a cylindrical body and small head. Sea otters weigh more — around 45-90 pounds — with large, furry faces.
Otters are part of the Mustelidae family, which is a family of carnivorous mammals that includes skunks, weasels, wolverines, and badgers. The sea otter is the largest member of the weasel family, yet the smallest marine mammal in North America.
Sea otters eat 25 percent of their body weight in food every day. Sea otters' diets include sea urchins, crabs, mussels, and clams, which they're known to crack open with a rock and eat while floating in the water.
Our Otter crochet pattern is happy to join our other friends Pig Kawaii Cuddler®, Cow Kawaii Cuddler®, and Chicken Kawaii Cuddler®.
Our finished Otter project is 11″ x 11″ using the recommended hook size. You are welcome to go up or down a hook size to create a different dimension. You can even hold two pieces of yarn together with a larger hook to create a giant cuddler. The sky is the limit!
If you've never worked one of our Kawaii Cuddler® patterns, they are geared towards beginners. You will work two flat pieces and single crochet them together to finish the piece. Even if you've never been able to crochet from a pattern before, we're confident you can create with a 3amgracedesigns pattern. We encourage you to join our Facebook Group where we remain active helping with questions! We love passing our love for the craft on to others!
Click HERE to purchase the Otter Kawaii Cuddler® crochet pattern
We hope you enjoy making your very own otter with our crochet pattern! We can't wait to see your creativity. When you complete one, please post it in our Facebook group or tag us on Instagram #3amgracedesigns. We love seeing your work!
Don't forget to PIN this project to your Pinterest Boards!

Click HERE to purchase the Otter Kawaii Cuddler® crochet pattern