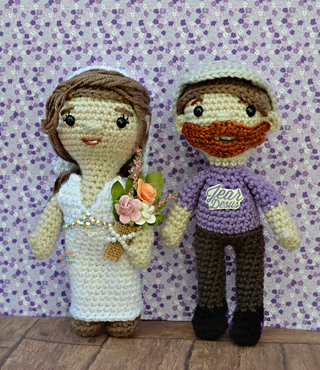 Hi friend – or if you've landed here from the big inner webs, we should say, Hi Dooder!
Here at 3amgracedesigns, we are huge Brandon Farris fans! His comedy keeps us laughing, but his heart keeps our love & support for him growing even stronger. He has such an inspiring success story – if you're not familiar with it, we highly recommend watching his Draw My Year video.
Last week, Brandon received one of our Unicorn Yarn Bowls in his opening video. In case you missed it, check it out HERE. The yarn bowl begins at the 6: 00 minute mark.

One of the most epic events to happen within Brandon's community is Co-Host Kelly. If you're not familiar with the Kelly saga, Suck It Todd Productions has a series of videos that explain it better than we can via type. Here they are in order:
Trailer: The Greatest Story Ever Told 
Who Is Kelly?
Find Kelly
We Found Kelly!
Finding Kelly was such a testament to what can be accomplished when we work together as a community for one common goal. We love the heart of Brandon's community tremendously! Shortly after Kelly was found, we went to work on designing Brandon and Co-Host Kelly amigurumi dolls. We reached out to the real Kelly and shared our idea. She was so excited – we can't wait for her to receive her set of dolls. Of course, we have a set for Brandon also!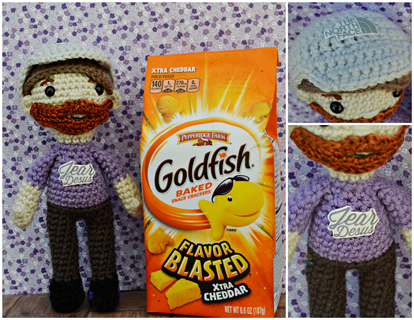 It wouldn't be a Brandon Farris doll if he didn't come with instructions on how to add The North Face logo to his hat, as well as the Jear Desus logo on his shirt, would it? We've included that also! Thank you to the Facebook Group, Brandon Farris – Lil Dooders for the Jear Desus font used for the front of Brandon's shirt.

Kelly looks radiant in her beautiful dress and veil. Our sincerest thanks to Katlyn for being so kind to us! Your grace in handling your Co-Host stardom has been amazing to witness.
Before we provide the links, in case you'd like to crochet your very own Brandon Farris and Co-Host Kelly dolls – please understand that our goal in creating these wasn't to profit from Brandon. We wanted to bring joy to the Dooder community. Any sales revenue generated from these dolls will be donated to the Sacramento Women's shelter. We are local here in Sacramento and Brandon has expressed the organization is important to Gloria, so we are honored to contribute to the great work the Sacramento Women's Shelter does to support our Sacramento area.
Click HERE to purchase the Brandon Farris doll pattern.
Click HERE to purchase the Co-Host Kelly doll pattern.
We have also bundled them together if you'd like to create them both! You can Click HERE to purchase the Bundle of both dolls.
We hope you enjoy making your very own Brandon & Co-HostKelly! We can't wait to see your creativity. When you complete one, please post it in our Facebook group or tag us on Instagram #3amgracedesigns. We love seeing your work!
Who should we design next? Gloria? Angel? Cam? Leave a comment and let us know who you would like to see next!
As Brandon would say, have the best day ever!
Don't forget to PIN this project to your Pinterest Boards!



Other Brandon Farris Patterns you may enjoy: