How To Crochet A Snow Globe Amigurumi Cuddler Pillow With Rosy Cheeks And Kawaii Smile. Our Snowglobe Crochet Pattern Works Up Quickly!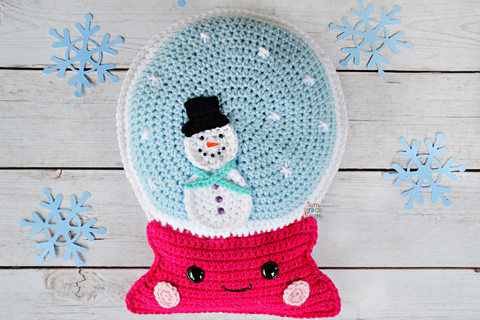 Hi friend! We're so excited to share our Snow Globe crochet pattern Kawaii Cuddler® with you!
A few fun facts we learned about snow globes while researching our pattern:
It is thought that snow globes originated in France in Europe, with the first known record being a globe of water and white powder, with a man holding an umbrella, which was on display at the Paris Universal Expo in 1878.
Snow globes were first patented in the year 1900, in Austria, by Erwin Perzy, a mechanic of surgery instruments, who is believed to have thought of the idea whilst attempting to increase light bulb luminescence.
To prevent the liquid inside a snow globe from freezing during cold temperatures, and antifreeze such as glycol, is often added to the water, while glycerine or another ingredient is sometimes added to slow the movement of the flakes in the liquid.
Our Snow Globe crochet pattern is happy to join our other winter friends Yeti Kawaii Cuddler®, Penguin Kawaii Cuddler®, and Snowman Kawaii Cuddler®
This is a beginner level pattern. Our finished Snowglobe project is 9″ x 12″ using the recommended hook size. You are welcome to go up or down a hook size to create a different dimension. You can even hold two pieces of yarn together with a larger hook to create a giant cuddler. The sky is the limit!
If you've never worked one of our Kawaii Cuddler™ patterns, they are geared towards beginners. You will work two flat pieces and single crochet them together to finish the piece. Even if you've never been able to crochet from a pattern before, we're confident you can create with a 3amgracedesigns pattern. We encourage you to join our Facebook Group where we remain active helping with questions! We love passing our love for the craft on to others!
Click HERE to purchase the Snow Globe Kawaii Cuddler® crochet pattern
We hope you enjoy making your very own snow globe! We can't wait to see your creativity. When you complete one, please post it in our Facebook group or tag us on Instagram #3amgracedesigns. We love seeing your work!
Don't forget to PIN this project to your Pinterest Boards!

Click HERE to purchase the Snow Globe Kawaii Cuddler® crochet pattern