OUR HALLOWEEN C2C CROCHET PATTERN MAKES A LAPGHAN SIZED THROW BLANKET. IT WILL QUICKLY BECOME A FAMILY FAVORITE TO DECORATE YOUR HOME FOR THE HALLOWEEN HOLIDAY.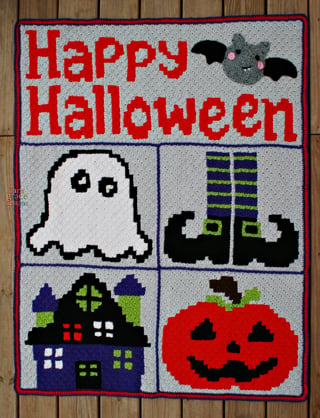 Our Halloween C2C crochet pattern layout includes 4 – 35×30 pixel panels, a top banner, and an optional top banner if you prefer not to use the included Halloween themed applique.
We love a good C2C blanket! This is a small enough project to finish in time for Halloween. Let's talk C2C (Corner to Corner) crochet for a minute. Crocheters seem to either love it or be terrified of it. If you happen to love it, high five! It's such a versatile style of making. The ability to create beautiful works of art are endless with their pixelated components.
If you're terrified of it – let's break it down. C2C is simply a series of double crochet stitches and the smaller, Mini C2C, is a series of half double crochets. If you can double crochet or half double crochet, you can do C2C!
Anything new can be scary, right? Fear is just an indicator – your body's way of telling you it's new/uncomfortable. But it doesn't have to be a dictator, fear isn't the boss of you, friend.
If you'd like to learn more about C2C, we have several videos to help you out.
C2C Overview For Beginners – This is a great place to start!
Increasing & Decreasing With C2C – Once you get this part down, you're limitless.
Color Changes For C2C – This is a game-changer for achieving crisp lines in your project.
YouDoodle App – How to digitally keep your place on C2C charts!
Understanding Written Instructions – Graphs not for you? No problem, all of our patterns also provide written instructions.
C2C Bobbin Stand – Having trouble with your bobbins? Here's a tutorial for making a stand out of PVC pipe.
Fear not – just jump in and give it a try! There are so many cool things this style of crochet will open up for you. We can't wait to see your first successful panel. We're cheering you on!
We have a Facebook Group where we remain active helping with questions. We absolutely love passing our love for the craft on to others!
Click HERE to purchase the Halloween C2C crochet pattern
We hope you enjoy making your very own blanket! We can't wait to see your creativity. When you complete one, please post it in our Facebook group or tag us on Instagram #3amgracedesigns. We love seeing your work!
Don't forget to PIN this project to your Pinterest Boards!

Click HERE to purchase the Halloween C2C crochet pattern